1994 MIT Mystery Hunt Solutions
Shortly after the 2012 MIT Mystery Hunt, the 1994 Hunt was added to the archives. Previously, only a small portion of this Hunt had been archived. Like the 1996 hunt, it was posted without any solutions, save solutions for those few puzzles which had long been there. After we finished solving the 1996 Hunt as well as we could, we tackled the 1994 Hunt. In this case, the archives showed the complete solution to the final runaround and the list of answers to the other puzzles which went into it. It did not, however, say which one went with which other puzzle, nor how those answers are arrived at. We did our best.

The hunt's instructions tell us that each puzzle has a two-part answer. One of the parts is a word that can go before one of the placeholder words in the runaround instructions, and the other part should replace that word in the instructions.

0
The solution for the crossword is already posted on the MIT web site. Per the instructions, the last column contains the answer we need, SHORT = TEN.

1
We don't have the metal key used for this puzzle. The Hunt web site says you had to identify the letter of the drill bit which made each hole in it.

2
Whatever was available by telnetting to the server indicated is long gone. We don't know what it was.

3
The answer to this puzzle is already posted on the MIT web site. The answer is BACK = END.

4
To solve this puzzle, replace each word with its same-length homophone, maintaining the alignment of the words:

 MAI

D


  GR

A

TE
 WRI

T

E
   T

E

RN
  SI

N

E
 FOR

E




W

ON
GREA

S

E
  WE

A

K
 IDO

L


 DAZ

E


 ROA

M



The answer is spelled out along the only column used in each word: DATE = NEW SALEM.
5
The answers to the questions in the first part are CO, AIR, KLM, GQ, TUX, NJ, VHF, WZ, SPY. In the second part, they are UPS, BQ, ZAX, MO, FW, KDL, JVC, YEN. Each answer appears in left to right order among the other letters in its corresponding scrambled alphabet. Removing these letters leaves BED in the first alphabet and RIGHT in the second, which are the answers.
6

The spoonternyms are:

yam and Rue (ram and ewe)
faal and rAke (real and fake)
whack and bliGht (black and white)
fad and suNny (sad and funny)
caw and rOoked (raw and cooked)
lie and cRaft (cried and laughed)
west and bursT (best and worst)
torte and sHawl (short and tall)

The indicated letters spell the answer, RAG = NORTH.

7
The paint-by-numbers puzzles lead to the following solutions, a picture of a CAR and the arrow shape in the negative space between the E and X of an EXIT sign.

8

The clue answers are:

AL LI A CEOUS
ISH ER WOOD
RU THE NI UM
MONT GOM ER Y
ES TRA GON
AN I SO MAST I A
NEUF CHA TEL
SIL HOU ETTE
O HI O
NAR NI A
TUT ANKH A MEN
HALF PEN NY
EXODUS
FEYN MAN
AT TO
RIK KI TIK KI TA VI
SUP ER MAN
IN SUL IN
DI AZ E PAM
EX CAL I BUR
OUA GA DOU GOU
FITZ GER ALD
TOP I AR Y
HAR RI SON
I TAL ICS
SEN A TORS
CONN ECT I CUT
OB LA DI
RIV ET ER
RE BEC CA
IS RA EL
DA TA
OS MI UM
ROO SE VELT
The acrostic of these answers gives the final answer: AIR MEANS ON THE FAR SIDE OF THIS CORRIDOR.

9
The original sayings are:

Everyone's a critic

Do as I say, not as I do
One man's meat is another man's poison
All's well that ends well
Fight fire with fire
It takes a thief to catch a thief
He who hesitates is lost

And per the instructions, their last letters spell the answer, CON = LEFT.

10
The solution for this puzzle is already posted on the MIT web site, giving the answer WIND = PANE.

11
The jigsaw pieces assemble as follows:

CO

BA

L

T 

RA

DO

N
E

RB

IU

M 

I

S 

T

HE


ME

LT

I

NG PO

I

NT




O

F

 LIT

HI

U

M

 O

N




C

EL

SI

US

 

SC

AL

E



The atomic symbols of cobalt, radon, and erbium spell CORNER, and the melting point of lithium is 180 DEGREES.

12
The solution to this puzzle is already posted on the MIT web site, giving the answer BASE = BOSTON.

13
The 4-digit numbers given should each be broken into two 2-digit blocks. Each resulting pair of numbers gives the X and Y coordinates of a pixel to illuminate to spell the answer, SOFT = T.

14
In the crossword, each theme entry needs to drop the letter sequence EAR one or two times (not necessarily near the highlighted letters) to fit into the grid.

LAIC CLOAK ENDS HEAPS
ORNO RUBLE TOUR OSHEA
NUCLFAM

I

LY HTTO

H

TTALK
INADAZE  HAIRY ORATES
   FRET FORCE MOOT
SP

R

EAD MALTA BADDEBT
LIVED JAMESLJ

O

NES NOB
EXIT EAVE   AXES BAKE
DYE O

N

MEDBANDIT BAILS
  WANTIN ALIEN KANSAS
 UMPIRE FLOGS WAST

E

S
PRINCE AIMEE SIRIUS
AGREE DRESSRE

H

SAL AIR
NERA SEEN   MEET PURE
ENO S

T

ANDARDBER ROCKS
 TRALALA QUEEN LOWEST
   TENT LUNAR HIDE
EOZOIC BAAED  OVERATE
RRAN

G

EMENT STATEOF

T

HT
RANCH ANDI EASEL UNIT
SLEET DESC APPLY LOSE

The first answer is the missing word EAR. The second answer is spelled by the letters in the shaded squares, in the order of their numebrs, spelling ON THE RIGHT.

15

The criss-cross has an error. The given letter R should actually be one square lower, as should the shaded square above it.

KABLO O PRAVA
R L PIP

R

I L B
A

B

ELA O KLIFO
B K LINCO A N
OPERO I JAMBO
 A E L I
TROVI   PI

A

NO
 T U R D
NE

N

IA E MISIO
A E BOMBO T V
SIGMO 

I

 LEONA
K R LARGE P L
AROMI O OLIVO

The shaded letters, in clockwise order, spell the first answer BRAIN.

In the word search, the constellations ANTLIA, ARA, AURIGA, CANCER, CETUS, CORVUS, DORADO, DRACO, FORNAX, GRUS, HYDRA, INDUS, LACERTA, LEPUS, LIBRA, LYNX, LYRA, MENSA, MUSCA, NORMA, OCTANS, ORION, PAVO, PEGASUS, PERSEUS, PHOENIX, PICTOR, PUPPIS, PYXIS, SCORPIUS, SERPENS, SEXTANS, TAURUS, TUCANA, and VIRGO are hidden. This leaves the following unused letters, spelling the second answer WIDDERSHINS:

SL

W

NPUPPISUPELXINEOHP
XNYLO

I

DIA

D

SSSAILTNARA
 SAR

D

IOMCNUUNU

E

B

RS

RO
 AUTAURUSTARSNEPRESV
 MSDCOAOEUOC

H

AOSCAIA
 

I

UNNODCRFVRUCGNRRXP
  RSEIOIHYDRATAEGEY
  G

N

CMGSUIPROCSOP

S

P
   SNATXESDLACERTA
16
The cryptic crossword solution is as follows:

CHIEF F C
A N EARTH
NATAL A A
D E TOTEM
I R   E E
DEFOG R L
A A RANGE
CACTI A O
Y E NYLON

Across: 1. CHI + EF. 5. HEART anag. 6. initials (Nurses Are The Attendants Legitimately) 7. TOT + EM 8. FED reversed + GO reversed (somewhat irregular wordplay) 9. DANGERS - DS anag. 10. CA(C)T + I 11. hidden in raiNY LONdon.
Down: 1. ACID anag. in CANDY 2. REINFECT A anag. 3. RATE + RNA in FL (Florida) 4. CLONE ME HA anag.

Per the instructions, the letters in the two unclued words can be anagrammed to spell the final answers, RING = LEFT.

17
The first group of transadditional forms world capitals: CONA(K)RY, ALGI(E)RS, NIAME(Y). The second group of transadditions forms countries: GAM(B)IA, SING(A)PORE, (S)YRIA, S(E)NEGAL, DEN(M)ARK, SW(E)DEN, IRELA(N)D, (T)OGO. The added letters spell the answers, KEY = BASEMENT.

18
Each phrase has a word hidden in it, as in a hidden word cryptic crossword clue:

asSAM PLEsiosaur
jesSE VENtura
wEIGH Tons
burN IN Effigy
whiTE Noise
hANS WERschten
aSK Yourself
mundanE ASTrology

The first several are just examples to give you the right idea. The answer is hidden only in the last two phrases, SKY = EAST.

19
We obviously could not solve the scavenger hunt, but the only four-word answer not used in another puzzle is HAND = OVERHEAD LIGHT FIXTURE.

20
The grid solution for the pictorial criss-cross is:

GOLD

F

ISH  APPLE
U  E   O C  I 

I


I  N TORCH  Z G
TURTLE S 

E

  Z H
A  I L ELEPHANT
ROOSTER  S A A
 N 

T

 V QUEEN I
 I   I U   DOLL
GOAT SPIDER   O
 N 

R

 I L R 

W

  L
   U O T

E

ABAG L
DIAMOND  S L  I
A  P  RO

S

E L  P
R  E  U  R E  O
TOOTH MOUSETRAP

The letters in the numbered squares, in numerical order, spell the answer FIRE = WEST.

21
The riddle gives the first part of the answer, FREE, clued several times over by means of words that form compound words or phrases with free (freeway, freestyle, carefree, freeload, freehand, pain-free, free lunch).

In the logic problem about house numbers, Cajix must have a square house number, or else Alice would have more than two possibilities for his house number regardless of what she believed about Bob. Since its squareness, and that Cajix's house number is more than Bob's, are the only things she knows about Cajix's house number, her two possibilities for Cajix's house number must be 49 and 64. Therefore, Alice must believe Bob has a house number less than 49, but at least 36. Since her conclusion was wrong, she didn't get to this conclusion because her own house number forced Bob's to be 36 or more. Therefore, she must have wrongly believed Bob's house number was a multiple of 23, and her own house number was at least 23, forcing her to believe Bob's house number was 46.

Since she came to a wrong conclusion, Bob's actual house number must be less than 36, and Cajix's actual house number must be 36, since if it was 25, there is not enough room for the difference-of-4 clue to be true. Alice's house number must be at least 8 less than Cajix's, so Alice's house number is between 23 and 28 (inclusive), and Bob's is between 27 and 32.

Bob has an exact guess for Alice's house number based only on his incorrect belief that it is a cube. This means Bob must think Alice lives in house 8, which means Bob himself lives in house 27. Therefore, Alice lives in house 23.

To confirm the last part of the clue, Cajix also wrongly believes Bob lives in a multiple-of-23 house and Alice lives in a cube house, producing the results 23 and 8, respectively.

Then 3(23) + 3(27) + 36 = 158 for the second part of the answer.

22

Since there are 30 equations in 25 variables (S is not used), it is probably possible to just plug the whole set into a linear equation solver and get the answer out. Since that is boring, the solution will not be presented in that way. Instead, here is a feasible path to solve the puzzle by hand:

GOLDENROD - RED - GOLD = NO = 22
ORANGE - NO = RAGE = 78
MAGENTA - TAN = MAGE = 67
RAGE - MAGE = R - M = 11
PURPLE + TAN - TAUPE = PRLN = 49
PLUM + (R-M) - PLRN = U - N = 17
TAUPE - TAN - (U-N) = PE = 42
BROWN - NO = BRW = 27

PERIWINKLE + TAN - PE - BRW - TEAL = IINNK - B = 15

BLUE + TAN - TEAL = BUN = 37
ECRU + MAGE - CREAM = UGE = 62
BEIGE + BUN - UGE = BBEIN = 58
BRICK + MAGE - CREAM = BIKG = 32

PERIWINKLE + INDIGO + CREAM + BBEIN + (R-M) - PE - BROWN - BLACK - GREEN - RED = IIIIIN = 40
Since U-N = 17, N is at most 9. Since IIIIIN=40, N is a multiple of 5. Hence N = 5, I = 7, and U = 22.
From BUN=37, B = 10.
From NO=22, O = 17.
From IINNK-B = 15, K = 1.
From BIKG = 32, G = 14.
From UGE = 62, E = 26.
From PE = 42, P = 16
From BLUE = 73, L = 15.
From PLUM = 55, M = 2.
From MAGE = 67, A = 25.
From R - M = 11, R = 13.
From CREAM = 75, C = 9.
From RED = 45, D = 6.
From TAN = 54, T = 24.
From BRW = 27, W = 4.
From WHITE = 81, H = 20.
From BUFF = 54, F = 11.

From YELLOW = 95, Y=18.
From JADE = 78, J = 21.
From AQUA = 75, Q = 3.
From VIOLET = 112, V = 23.
From FLAX = 63, X = 12.
From BRONZE = 90, Z = 19.
By elimination, S = 8.

This yields the following solution:
| | | | | | | | | | | | | |
| --- | --- | --- | --- | --- | --- | --- | --- | --- | --- | --- | --- | --- |
| A | B | C | D | E | F | G | H | I | J | K | L | M |
| 25 | 10 | 9 | 6 | 26 | 11 | 14 | 20 | 7 | 21 | 1 | 15 | 2 |
| N | O | P | Q | R | S | T | U | V | W | X | Y | Z |
| 5 | 17 | 16 | 3 | 13 | 8 | 24 | 22 | 23 | 4 | 12 | 18 | 19 |
The final clue 6789 = SPECTRUM is interpreted by taking the letters representing 6, 7, 8, and 9, which spell DISC, as the first part of the answer, and the sum of the values of SPECTRUM, or 120, as the second part.

23
The dice have the letters AKNOUW, BCDEHI, FGMTXY, JLPRSV. Extracting and ordering the indicated letters spells the first part of the answer, SOME.

The alphametic has the unique solution:

    3074


  x 9895


   15370
  27666
 24592


27666   


30417230


+   3865


30421095

0123456789 = OYTFREVUIN, but what we need is EI = 58.

24
This is a standard cryptogram, without spaces. The solution is:

SPACE THE FINAL FRONTIER THESE ARE THE VOYAGES OF THE STARSHIP ENTERPRISE ITS CONTINUING MISSION TO EXPLORE STRANGE NEW WORLDS TO SEEK OUT NEW LIFE AND NEW CIVILIZATIONS TO BOLDLY GO WHERE NO ONE HAS GONE BEFORE -- NIGHT BLACK
Most of this is just filler. The answer is at the end, NIGHT = BLACK.

25
Break the text into groups of three letters and reverse each group. It spells I COULDN'T MAKE ALL OF THEM TOO HARD OR YOU'D GIVE UP RIGHT AWAY SO HERE'S AN EASY PAIR. SUN IS THE FIRST WORD AND BLAST FURNACE IS THE OTHER. So SUN = BLAST FURNACE.

26
This is Braille, with 0s for dots. The answers are RAP and ACROSS THE HALL.

27
The answer to this puzzle is already posted on the MIT web site. The answer is HORSE = DOWN.

28
The knight's tour can be solved to spell THE WHITE OF CHRISTMAS EQUALS CONSERVATIVE WING, meaning SNOW = RIGHT.

29
The solution to the maze is shown. Yellow sections are walking on the paths, pink sections walk through walls, and orange sections are where you pass the same square once each way.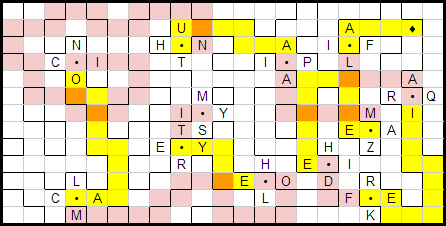 The letters you cross after each circle spell the answer, LIFE = MANOMET.

30
The letters are all taken from the titles of magazines:

BYTE
ANALOG
READER'S DIGEST
NEW YORKER
SCIENTIFIC AMERICAN
OMNI
U.S. NEWS & WORLD REPORT
TV GUIDE
HARPER'S
The initial letters of the titles spell the answer, BARN = SOUTH.

31
The answer to this puzzle is already posted on the MIT web site. Instead of giving you another pair, this one gives you an instruction: If two steps of the path begin with the same word they must be interchanged before you start.

Final Path
The answer to this puzzle is already posted on the MIT web site.